Preorder our book bundles now!
Preorder our book bundles now!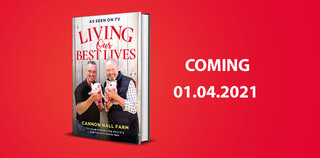 The moment has arrived – and we are so excited to be able to offer on preorder our book Living Our Best Lives!
What the publisher says:
The tough and touching tale of a real Yorkshire family farm.
In the 60 years that Yorkshire farmer Roger Nicholson has lived at Cannon Hall Farm near Barnsley, he has turned what was once a humble small family farm into a popular success story.
This book covers the history of the Nicholsons and their farming dynasty, which dates back to the 1600s. From tales of Roger's father, Charlie, and his prize-winning beer-drinking bull, to how Roger had to take over the farm at just 16 years old. Decades of financial struggle followed for Roger, his wife and their three children, but through love and sheer determination, the family turned their lives around.
This is a story of dedication, optimism and heart.
What we say:
We want to share the joy of our family farm with our customers which is why these limited edition book bundles are available only from us.
Every copy you buy from our website will be signed by Farmer Robert and Farmer David.
What You Get
Three bundles available with exclusive merch!
Choices include:
Signed book and exclusive pin badge
Signed book and merch bundle with pin badge, mug and tote bag
Signed book and merch bundle with pin badge, mug and tote bag plus a golden ticket to one of our exclusive book launch open days at Cannon Hall Farm on May 13 or May 20, 2021 where we will have lots of exciting things in store such as talk from Farmer Robert and Farmer David about the book and lots of extra talks and demonstrations with our amazing team of farmers.
Important information
The book is not published until April 1, 2021 and so no orders containing our book bundles will be shipped until that date.
If it is for a gift, we've got you covered! You get a downloadable gift certificate on checkout for you to print at home.
Book Launch Day
Our first ever exclusive use days are tied in to the book launch – only tickets purchased in these bundles are valid for the open day. The farm will be closed to anyone other than these ticket holders. You will be sent information nearer the time on how you book in. Purchasing this bundle does not constitute a booking: you have to book in with your 'golden ticket.'
Preorder our book bundles now!