Socially distanced Santa! - December 5 to December 24
To book farm entry and Santa tickets click here.
If you have a farm admission voucher and need to covert it to book your place click here.
If you need to book in with an existing online ticket - go here.
Join us at Cannon Hall Farm this December when a very special guest will be visiting to make your family Christmas super special.
The latest round of government announcements have meant that we have had to significantly change what we had in mind for this event – but we wanted to still give the children the chance to see Santa.
When we announced plans for our Santa experience, we did so with our visitors safety in mind. Everything we planned had you at the forefront, with a primarily outdoor experience that took advantage of our wide open spaces, and a completely none contact way for children to 'see' Santa without getting too close.

Unfortunately since then, times have changed even further.

We pride ourselves on our adaptability – and one thing we did not want was to leave children disappointed.

We are therefore thrilled to reveal that – after an entire weekend of thinking, head scratching and negotiating – we have been given permission from our local council to still welcome Santa to the farm.

However, there will be changes to what we initially advertised so please do ensure you read on.

Partial Closure of the Site
Because we are located in a tier 3 area, unfortunately we cannot open all the usual animal barns nor are we permitted to open our reptile house. Our indoor soft play remains closed and our White Bull restaurant can only serve food for instant takeaway.

Our roundhouse and both our rare breeds barns can open but our other barns were deemed as indoor and are not permitted. The rare breeds barns must operate on a no-stopping, walk through only policy.

Don't worry though, we will be utilising every outdoor space we have to move the animals to places you will still be able to see them.

Our outdoor playgrounds – with the exception of the tunnel maze – are all open and you are permitted to use those for as long as you wish.

The Hungry Llama remains closed.

The Show Must Go On
Although the event is not what we initially anticipated when we advertised it, we are thrilled to say that Santa and his head Elf will still be making an appearance.

Our socially distanced Santa will apply all the lessons we've learned since our reopening – and will give children the chance to see Santa in a totally outdoor environment.

Santa will be doing a loop around our sheep racing arena. Our staff elves will be on hand to ensure social distancing is in place around the track and to move customers in and out of each session.

However, please do bear with us. With just days to go before the event was told it could go ahead, we haven't been able to put in place all the decoration we had hoped to. Just know that we are trying our best and believe the most important thing is for Santa to be AMAZING for the children (which he will be thanks to our amazing friends from Talegate Theatre Productions.)

Due to the guidance and restrictions the 'parade' element has had to change – Santa and Elfie go in opposite directions to ensure children on either side of the sheep racing arena have something to see.

Although we try to include our animals in the parade, for their own welfare, we cannot guarantee that they will be led at every one.

So what now?
Let's face it – when we announced this event it isn't what any of us had in mind.
But we know that – due to the tight restrictions many attractions have decided not to bother with Santa this year – which is undoubtedly the easiest option.
However, that's not for us. We've decided to carry on to make it as special as we can.
So, all paying children will still be given a souvenir keepsake to remember their visit – a commemorative keepsake colouring book featuring our most famous animals, drawn by local artist Elysia Gilman.
AND if you choose to book, you will also be given a free ticket for every paying ticket you've bought, to allow your family to return to the farm.
These tickets would hopefully let you see our farm at its best when restrictions are likely to be lifted – so we'd love you to visit from July 2021 to November 2021 when we hope we can showcase our farm as it is meant to be seen. (Note: we are sorry but this ticket would exclude our pumpkin festival.)

Your Booking
If you are happy to stick with us then you need to do nothing, just bring yourself at your ticket arrival time to our main gate and let us take care of the rest.
You will be given your colouring book and free tickets when you arrive. It is absolutely critical that you arrive at the time stated on your ticket. Each arrival time has a set Santa Parade time – and now more than ever you need to stick to that time to allow everyone the chance to enjoy the big fella in a safe environment.
The parade times and corresponding arrival times are in an image at the bottom of this email.

If you have to isolate
If you can't attend due to your local restrictions or due to self isolation we will allow you to bank your tickets. Just email us on the email provided on your ticket.
Due to the ever-changing guidance on restrictions in place, we have worked hard to manage expectations and we'd advise all customers to read our information page here for all details on what is open at this time.
Please note: you cannot mix and match our entry and parade timings. You must arrive to the farm at your entry time and make sure you are in the sheep racing arena for your parade time. It is your responsibility to ensure you arrive in time. Sadly admissions cannot be guaranteed for late arrivals.
Tickets for our Santa Parade event will cost just £9.95, plus a £1 booking fee. It includes farm admission.


Please note: there is no opportunity for children to have a one-to-one meeting with Santa. Get your cameras ready as Santa makes his loop and passes you!
Due to the nature of the gift (a colouring book) no keepsake gift will be given to under twos on a free ticket.
Don' forget our site closes early on Christmas Eve at 3pm.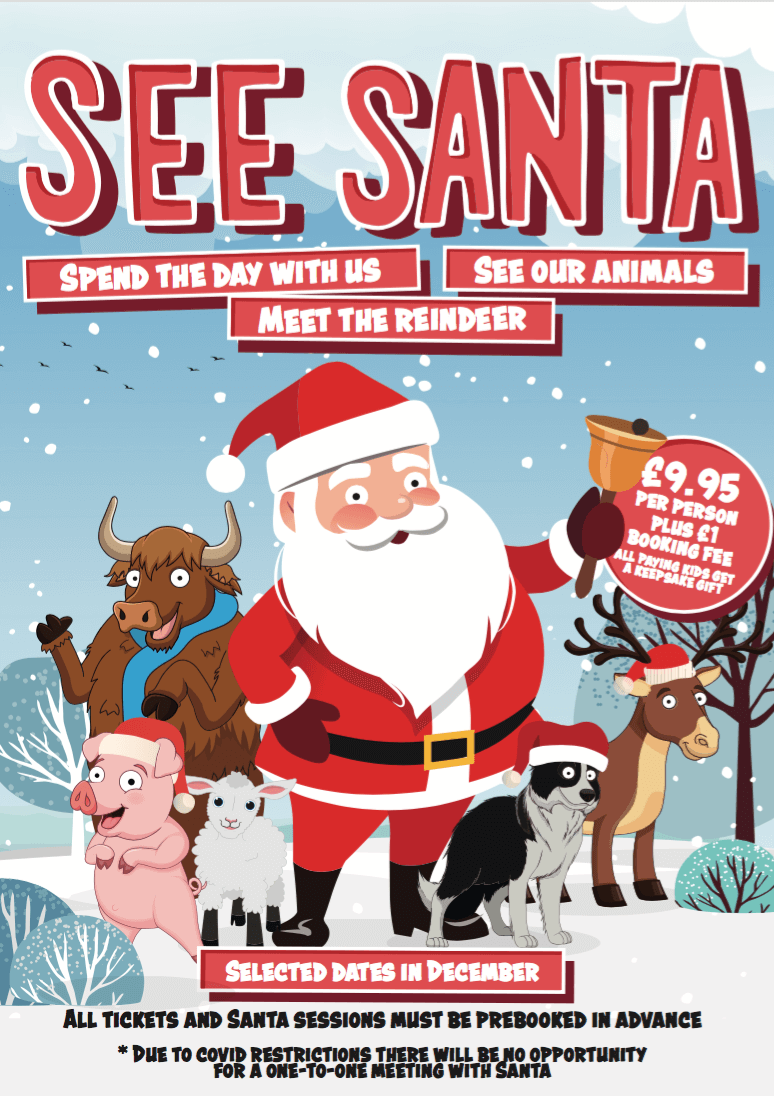 Event date
December 5th 2020 - December 24th 2020
Location
Cannon Hall Farm