You're seconds away from claiming your 10 Farm Tickets for £59.95 offer! Just click the link below and claim your offer.
Scoop up the perfect gift with our bulk buy admission tickets which are on sale for the first time ever!
Save up to 40 per cent on standard gate admission prices when you buy our bulk saver tickets.
£59.95 will get you TEN single admission passes for Cannon Hall Farm which can be used any time in the 12 months after purchase.
They will be valid all year round (excluding certain special events) – even the six-week holidays!
Our prices do vary throughout the year but we are commonly £9.95 on weekends and holidays.
They won't cover any admission for our Pumpkin Festival, our bonfire, our pantomimes or any of our Christmas events.
They do cover weekend and weekday farm admission, our lambing week in April and the six-week holidays!
Off-peak dinosaur event days are included (May 18 – 22 and June 1 – 5) but peak dinosaur event tickets will be subject to a £3 per person uplift if these tickets are used.
They will be accepted for Easter on the Farm but a £3 per person uplift is payable for anyone wishing to see the Easter bunny or get an egg.
When you buy these tickets online they will be sent to you as an e-ticket.
If you wish to receive physical tickets in a beautiful presentation folder please call us on 01226 790427 to order.
You're claiming this offer: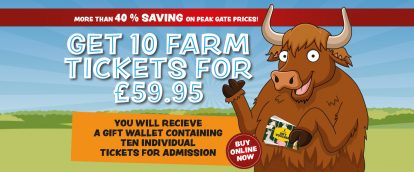 Valid until 01/07/20 12:00 am
Scoop up the perfect gift with our bulk buy admission tickets which are on sale for the first time ever! Save up to 40 per cent on standard gate admission prices when you buy our bulk saver tickets. £59.95 will get you TEN single admission passes for Cannon Hall Farm which can be used any … read more