You're seconds away from claiming your Autumn Saver – Advanced Tickets Only! offer! Just click the link below and claim your offer.
Welcome back to autumn at Cannon Hall Farm – where there's lots of exciting new things to see.
As we navigate around our 'new normal' we are pleased to announce our prices are dropping this Autumn – but don't forget every single ticket has to be booked online in advance (even if you have a free admission ticket.)
Come and walk our new animal walkway, catch up with all the new arrivals and explore our amazing outdoor play areas.
New prices: Weekdays £4.95 / Weekends £7.95
An online booking fee applies to all tickets.
Due to the changing nature of the current climate, please make sure to read our Covid-19 opening statement which is updated to include current information on all rules and what is open and what is not.
Read our reopening policies and book tickets here.


You're claiming this offer: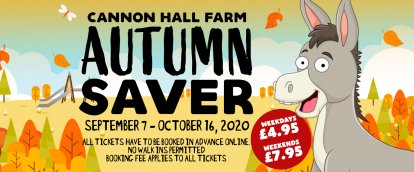 Valid until 16/10/20 3:00 pm
Autumn discounts on farm admission
Welcome back to autumn at Cannon Hall Farm – where there's lots of exciting new things to see. As we navigate around our 'new normal' we are pleased to announce our prices are dropping this Autumn – but don't forget every single ticket has to be booked online in advance (even if you have a … read more