Takeaway Jubilee Afternoon Tea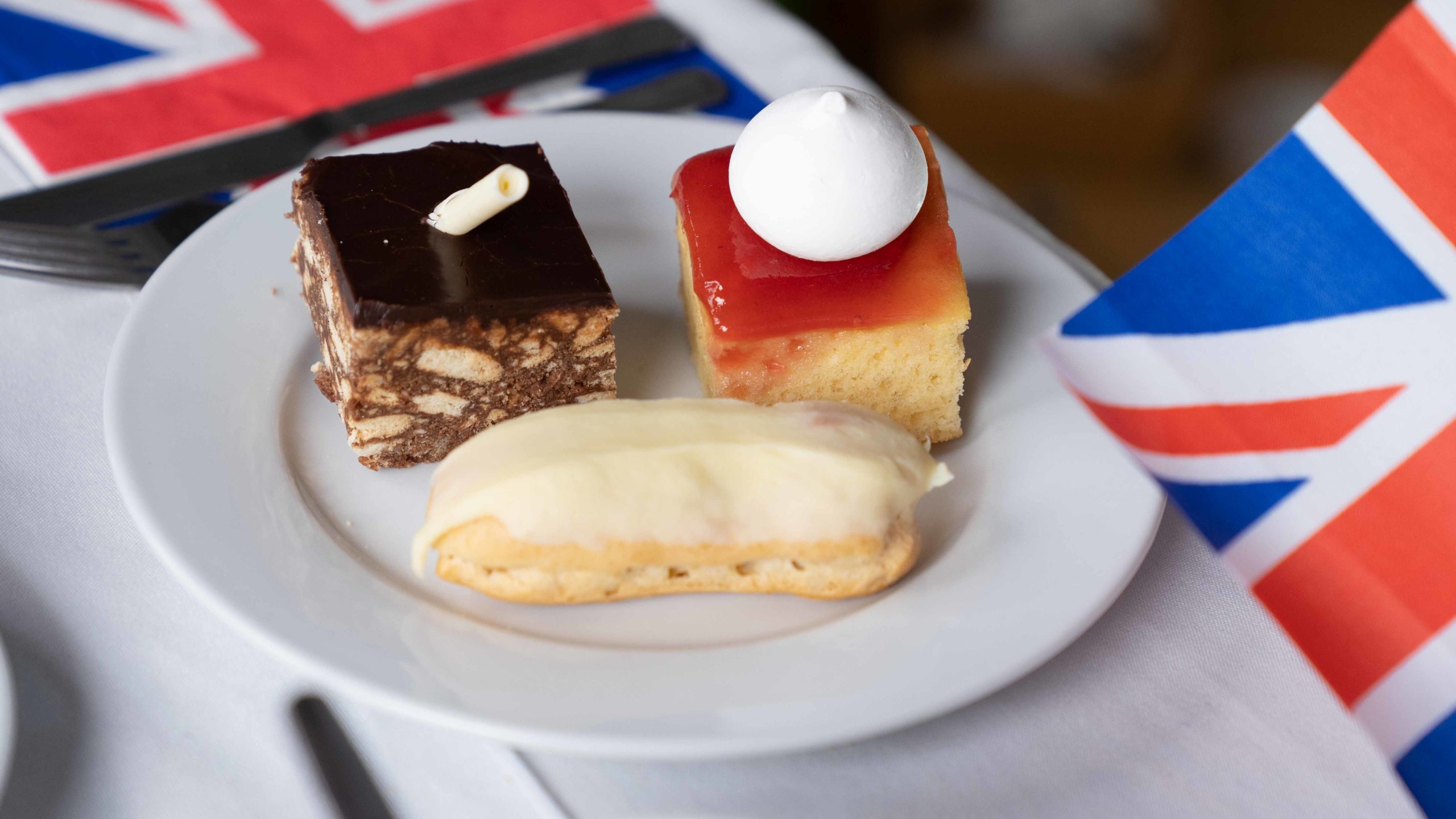 Our amazing bake room team have been hard at work creating an absolutely mouth-watering takeaway afternoon tea which will be available for collection from our farm shop on the Jubilee weekend.
This lovely takeaway option will be crammed full of treats freshly made in our farm shop bake room – and includes Cannon Hall Farm's famous scone! All items on the menu have been lovingly selected based on the queen's reported favourites.
Our Jubilee afternoon teas are limited in number so make sure you order yours online for collection as soon as possible. It costs £17.95 per person. A children's version is also available for £11.95.
This is a takeaway afternoon tea which is presented in a takeaway box for you to eat on the go or at home.
Book your Jubilee Afternoon Tea Here!
Standard Jubilee Afternoon Tea:

Sandwiches:
Coronation Chicken (White Bread) EGG, WHEAT (GLUTEN), SOYA, MILK
Smoked Salmon & Cream Cheese (Brown Bread) WHEAT (GLUTEN), SOYA, MILK, FISH
Beef & Tomato (White Bread) WHEAT (GLUTEN), SOYA, MILK
Egg Mayonnaise & Cucumber (Brown Bread) WHEAT (GLUTEN), SOYA, MILK, EGG
Homemade Savouries:
Potato, Bacon & Spring Onion Salad EGG
Pork & Leek Sausage Roll WHEAT (GLUTEN), MILK, SULPHITES
Homemade Cakes:
Scone, Strawberry Jam & Clotted Cream WHEAT (GLUTEN), MILK, EGGS
Mini White Chocolate Éclair EGG, WHEAT (GLUTEN), SOYA, MILK
Queen of Puddings Cake WHEAT (GLUTEN), MILK, EGG
Chocolate Biscuit Cake WHEAT (GLUTEN), BARLEY (GLUTEN), MILK, SOYA, SULPHITES
Sundries:
Yorkshire Tea bag
Napkin
Union Jack Flag

Vegetarian Jubilee Afternoon Tea:

Sandwiches:
Vegetarian Coronation (White Bread) EGG, WHEAT (GLUTEN), SOYA, MILK
Brie, Cranberry & Rocket (White Bread) WHEAT (GLUTEN), SOYA, MILK
Roasted Vegetables & Hummus(Brown Bread) SESAME, WHEAT (GLUTEN), SOYA, MILK
Egg Mayonnaise & Cucumber (Brown Bread) EGG, WHEAT (GLUTEN), SOYA, MILK
Homemade Savouries:
Greek Salad MILK, SULPHITES
Goats Cheese & Red Onion Quiche WHEAT (GLUTEN), MILK, EGG, SULPHITES
Homemade Cakes:
Scone, Jam & Clotted Cream WHEAT (GLUTEN), MILK, EGG
Mini White Chocolate Éclair EGG, WHEAT (GLUTEN), SOYA, MILK
Queen of Puddings Cake WHEAT (GLUTEN), MILK, EGG
Chocolate Biscuit Cake WHEAT (GLUTEN), BARLEY (GLUTEN), MILK, SOYA, SULPHITES
Sundries:
Yorkshire Tea bag
Napkin
Union Jack Flag

Children's Jubilee Afternoon Tea:
Sandwiches
Ham: WHEAT (GLUTEN), MILK, SOYA
Cheese: WHEAT (GLUTEN), MILK, SOYA
Apple & Raspberry Jam: WHEAT (GLUTEN), MILK, SOYA
Savouries
Babybel Cheese: MILK
Easy Peel Citrus Fruit:
Sausage Roll: WHEAT (GLUTEN), SULPHITES
Cakes:
Jubilee Party Bun: WHEAT (GLUTEN), MILK, EGG
Rice Crispie Bar: WHEAT (GLUTEN), BARLEY (GLUTEN), SOYA, MILK
Chocolate Chip Shortbread: WHEAT (GLUTEN), MILK, SOYA
Sundries
Orange Juice:
Napkin
Union Jack Flag
Cannon Hall Farm Allergen Statement.
Cannon Hall Farm prepares and handles a large range of foods and drinks on site. As a result, it's not possible to guarantee food and drinks from any of our outlets are free from allergens due to the significant cross-contamination risks from products, people and the environment. Therefore we cannot provide an allergen free meal