Helen Skelton Book Signing - December 6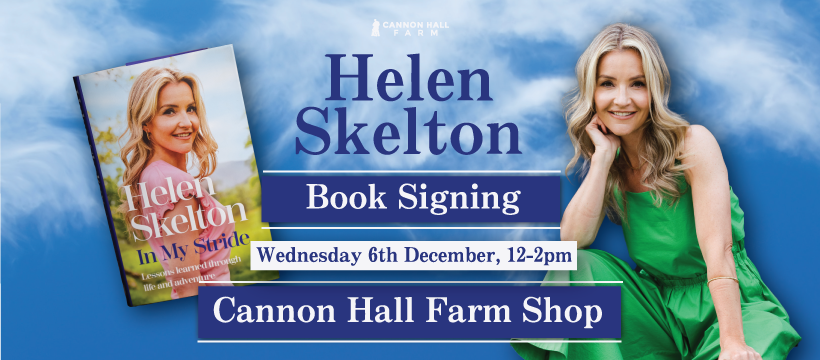 Join our pal Helen Skelton for a special one-off signing to celebrate the launch of her brand new book 'In My Stride.'
Our farmy army knows Helen as our trusted friend on the Springtime on the Farm series – but she's had a widely varied career that spans grand adventures from Blue Peter, Countryfile, SAS who dares wins, to getting on her dancing shoes last year on Strictly.
Helen will be appearing in our farm shop from 12pm to 2pm on December 6, signing copies bought on the day.
** There is no charge to access our farm shop – you just need to purchase a book on the day, priced at £22 each. **
In My Stride – Book Description
Helen Skelton is no stranger to doing hard things, from kayaking the entire length of the Amazon to competing in a boxing match for Sports Relief. Her ability to dig deep and find the inner strength and to carry on no matter the challenge – physical, mental, or emotional – is nothing short of remarkable. Helen grew up on a farm in Cumbria and credits her deep connection with nature and family for grounding her throughout the experiences in her life.
In My Stride explores the lessons Helen has learned through life and adventure, sharing how getting out in nature can help us heal, grow, and find the resilience to move through challenging times in our lives. It tells stories of finding confidence, authenticity, courage, resilience, acceptance, community, and freedom against the backdrop of life's peaks and troughs and through the power of the natural world.
Helen shows us how putting one foot in front of the other – whether that's on the Strictly dance floor or in the great outdoors – can help us to journey back to ourselves.
Please note, any signed copies left after the event will be placed on our website here on Dec 7th at 6pm.
Event date
December 6th 2023
Location
Cannon Hall Farm Shop, Bark House Lane, Cawthorne, Barnsley, S75 4AT