You're seconds away from claiming your Save £3 per person on Pumpkin Festival offer! Just click the link below and claim your offer.
Our Pumpkin Festival is packed full of Halloween themed fun – all paying kids get a FREE pumpkin, our expert carvers cut the design for you! We've daily shows with our wannabe wizard, a spell book challenge with a treat for the kids and bags of farm fun.
Save £3 per person off gate price tickets only when you book online.
Sorry, you've missed this offer!
You're claiming this offer: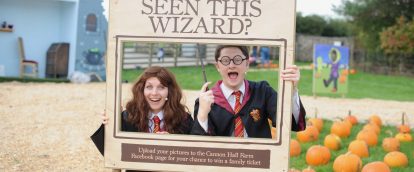 Valid until 31/10/19 12:00 am
Our Pumpkin Festival is packed full of Halloween themed fun – all paying kids get a FREE pumpkin, our expert carvers cut the design for you! We've daily shows with our wannabe wizard, a spell book challenge with a treat for the kids and bags of farm fun. Save £3 per person off gate price … read more